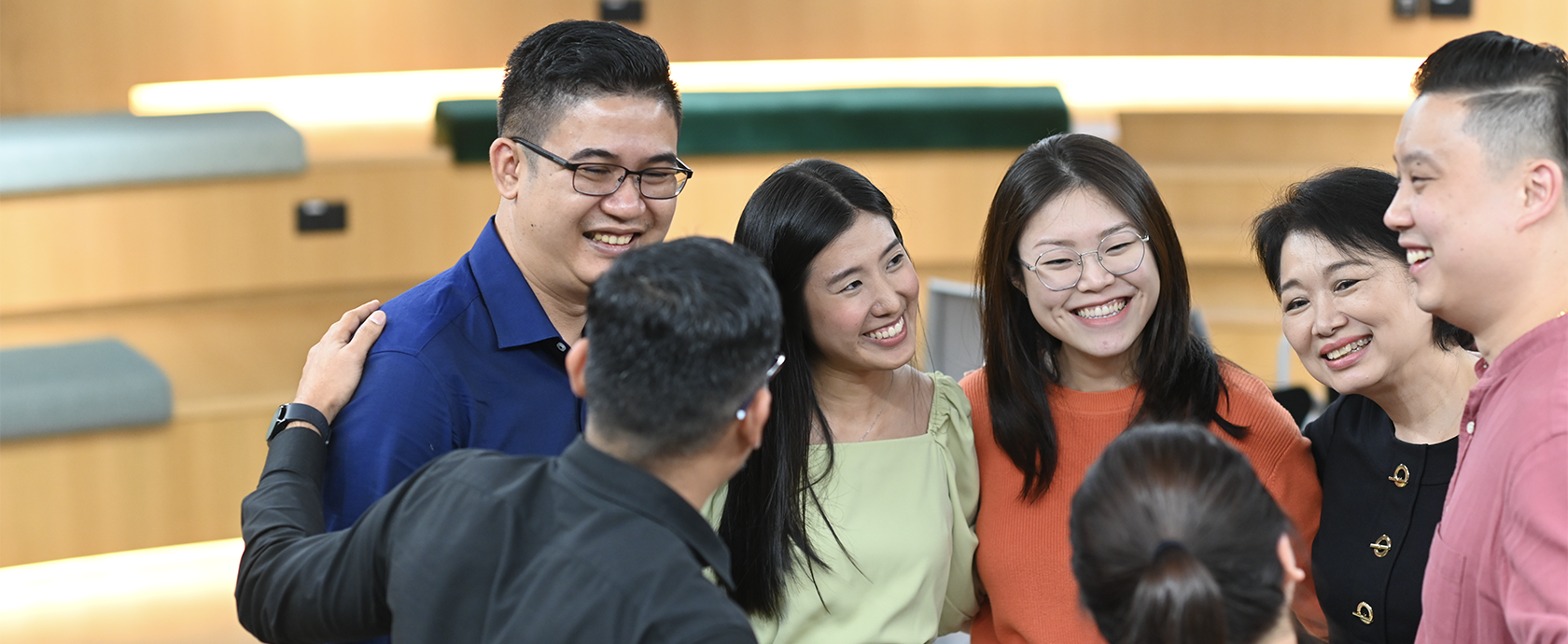 Our People, Our Family
At Far East Organization, we are more than just a workplace. We are a family that is committed to helping our people grow and flourish. We are stewards of every person that God entrusts in our care. We recognise and develop talent, explore innovative ideas, and celebrate each other's achievements. As part of this family, our people enjoy comprehensive health and well-being benefits, which include medical, flexible healthcare, and wellness options, leave, and insurance. Our Employee Assistance Programme supports various needs across different situations, and we aim to help our colleagues achieve work-life harmony.
Medical & Healthcare

Everyone's health journey is unique, and different seasons in our lives bring different challenges. We take a personalised approach in the design of our health benefits to meet the diverse needs of our staff. Eligible staff members have access to a medical spending account that covers their own medical expenses and those of their family. Our annual health screening helps keep staff in optimal physical health. We continue to provide our staff with resources they need to prioritise their health now and in the future.

Chaplaincy

Come to me, all you who are weary and burdened, and I will give you rest.

Matthew 11:28



As a community, we want to walk with our colleagues through life's challenges and opportunities. We dedicate resources to share each other's burdens and provide support in moments of need. Our door is always open, and so are our hearts. As a valuable member of the Organization's network of care, our Chaplain offers a listening ear, a guiding hand and a confidential and secure source of support. We also offer a safe space for staff members to share concerns and seek professional help when needed.

Celebrate Life's Milestones

Celebrating the milestones in our colleagues' lives is important to us.

We gift a day for every staff member to celebrate their birthday. They also receive a birthday voucher that can be redeemed at various Far East Organization F&B outlets, malls or hospitality properties.

We understand that everyone of us has obligations beyond work. We provide leave to cover child and family care as well as milestone events such as marriage or studies.

Based on the biblical Sabbath principles of rest, we offer sabbatical leave* for colleagues to rest, recharge and re-energise over an extended break.

*Applicable to eligible staff members who have fulfilled the required tenure of service from the 7th year onwards.

Live Your Fullest Life

We believe in wellness of the body, mind and spirit. From health and wellness initiatives to financial education and personal development workshops, we take a holistic approach to support our staff in living their fullest life.

We work to foster a supportive culture that empowers our people to pursue their interests and realise their aspirations.

Do Good Together

Caring Hearts is our staff-initiated volunteering programme. Our colleagues are passionate about contributing their time and energy to causes that are meaningful to them and the community. Through Caring Hearts, staff members participate in a range of activities that align with their interests and values to make a difference in people's lives.

We draw inspiration from the words of Jesus in Mark 10:45, "For even the Son of Man came not to be served but to serve, and to give his life as a ransom for many."

Learning Journeys: Professional Development

We cultivate a high-performance and values-driven mindset by equipping our people with the attitudes, skills and knowledge to excel in their roles. Our leadership programme integrates development of functional leadership competencies with a grounding in biblical principles and values. Our Leadership Speakers and Coram Deo series further drive leadership excellence.

The ABCD Alphabet School is a unique experiential learning programme for staff to travel and explore the world through the lenses of Arts, Buildings, Community Service, and Dining. This enables them to develop an outward perspective, enhancing their ability to serve our growing cosmopolitan customer base.

Our People, Our Success: Recognising Excellence

Our people make up our unique community and bring to life our workplace of love and grace. Recognising and rewarding their efforts and achievements is ingrained in our organisational culture. We host an annual awards ceremony to honour and celebrate their contributions towards delivering exceptional business results, demonstrating innovation, displaying exemplary behaviour, and creating the best possible experience for our customers.

This is our commitment to a people-first approach that upholds the spirit of excellence.